Four County 4-H Livestock "Interest Meeting"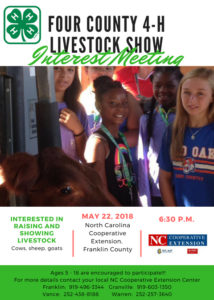 There will be a Four County 4-H Livestock Show "Interest Meeting" held on Tuesday, May 22 at 6:30 p.m.
All youth ages 5 to 18 and parents interested in raising and showing livestock are welcome. You do not have to be a current 4-H member to attend the meeting.
Learn about selection, care and feeding of livestock, animal health and the importance of good record keeping.
The meeting will begin at 6:30 p.m. at the Franklin County Extension Office located at 103 S. Bickett Blvd. in Louisburg, NC 27549.
Those with questions or needing more detail, please contact your local NC Cooperative Extension Center (Franklin County – 919-496-3344); (Granville County– 919-603-1350); (Vance County – 252-438-8188); (Warren County – 252-257-3640).