Vance County Farm City Breakfast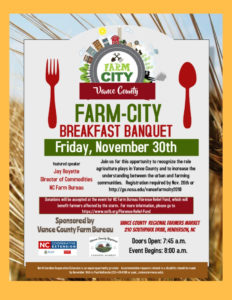 It's once again time to celebrate agriculture in Vance County!
The Annual Farm City Banquet will be held on November 30, 2018, at 8 a.m. at the Vance County Regional Farmers Market located at 210 Southpark Drive in Henderson. (Doors will open at 7:45 a.m.)  This event is sponsored by the Vance County Farm Bureau.
Please join us for this opportunity to recognize the role agriculture plays in Vance County and to increase the understanding between the urban and farming communities.
The keynote speaker will be Jay Boyette, Director of Commodities with North Carolina Farm Bureau. Mr. Boyette will share the story of how farmers in eastern North Carolina were impacted by Hurricane Florence. We will also be accepting donations for the Florence Relief Fund, established by NC Farm Bureau to assist the affected farmers.
Registration is required by calling 252-438-8188, or register online. The registration deadline is November 26.