Tips for Beginning Vegetable Gardeners
Find this article at:
go.ncsu.edu/readext?684133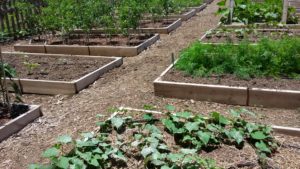 Spring always brings new interest to the rewarding hobby of vegetable gardening. It is indeed a wonderful pastime, and if it adds healthy food to your table and a bit of self-reliance to your life, those are big bonuses. For those who might be new to the process, here are a few tips to get you started.
Raised beds are a great option for beginning gardeners. It's much easier to create the proper soil conditions, the maintenance is easier, and allows you to maximize production in a small space.
The starting point, of course, is the frame. Treated wood is a durable and inexpensive option, and modern treatment processes have minimized the risk of toxins leaching into the soil. For extra peace of mind, the interior sides of the bed could be lined with plastic sheeting. 
Other long-lasting options include cinder blocks, naturally rot-resistant lumber such as cedar, and synthetic lumber commonly used for decking. Untreated wood can also be used, but the frame will have severe rot within a few years. Items to avoid include tires and railroad ties. 
Before filling the bed, I recommend breaking up and tilling the soil underneath to a depth of four to six inches. Then build up with additional soil plus a couple inches of compost. The bagged compost at stores is a good option. It is usually made from lumber mill waste such as sawdust and bark. You may also find bulk compost available at local nurseries or municipal waste facilities. It wouldn't hurt to add about a pound of lime plus a quarter pound of fertilizer to each bed, then mix everything together well. 
Note that it's always better to base fertilizer and lime needs on a soil sample report, but the analytical lab is currently operating at a reduced level and results may be delayed slightly (as of April 2020). Feel free to contact me for a more fine-tuned recommendation. 
When the bed is ready to plant, you can decide whether to use seeds or starts. Each approach has pros and cons. Starts or transplants will give you a headstart, getting you to harvest more quickly. Seeds are cheaper on a per plant basis, but are more sensitive to neglect and slower to grow. 
When buying seeds, it may be tempting to buy enough to last a few years. This is probably unwise. Yes, some seeds can remain viable for a number of years, but only if stored under very strict moisture and temperature conditions. I've also found that most people already buy more than they need. My advice is to plan carefully and buy what you need this season. If you have a few left over, they will probably be fine next year, but I wouldn't put much faith in them beyond that point. 
Keep in mind that corn, cucumber, and melons are not well-suited to raised beds, as they simply take up too much space. That still leaves plenty of options, and you should never hesitate to try something new or unusual. 
Once planted, you will need to water (about 1 inch per week), and inspect plants frequently (daily if possible) for insect and disease problems. 
For questions about caring for your garden through the growing season, the staff at your local County Center of N.C. Cooperative Extension stands ready to help.